The Beatles were an English rock band, formed in Liverpool in 1960, and one of the most commercially successful and critically acclaimed acts in the history of popular music. From 1962 the group consisted of John Lennon (rhythm guitar, vocals), Paul McCartney (bass guitar, vocals), George Harrison (lead guitar, vocals) and Ringo Starr (drums, vocals). Rooted in skiffle and 1950s rock and roll, the group later worked in many genres ranging from pop ballads to psychedelic rock, often incorporating classical and other elements in innovative ways. The nature of their enormous popularity, which first emerged as the "Beatlemania" fad, transformed as their songwriting grew in sophistication. The group came to be perceived as the embodiment of progressive ideals, seeing their influence extend into the social and cultural revolutions of the 1960s.
With an early five-piece line-up of Lennon, McCartney, Harrison, Stuart Sutcliffe (bass) and Pete Best (drums), The Beatles built their reputation in Liverpool and Hamburg clubs over a three-year period from 1960. Sutcliffe left the group in 1961, and Best was replaced by Starr the following year. Moulded into a professional outfit by music store owner Brian Epstein after he offered to act as the group's manager, and with their musical potential enhanced by the hands-on creativity of producer George Martin, The Beatles achieved mainstream success in the United Kingdom in late 1962 with their first single, "Love Me Do". Gaining international popularity over the course of the next year, they toured extensively until 1966, then retreated to the recording studio until their break-up in 1970. Each then found success in an independent musical career. Lennon was murdered outside his home in New York City in 1980, and Harrison died of cancer in 2001. McCartney and Starr remain active.
During their studio years, The Beatles produced what critics consider some of their finest material including the album Sgt. Pepper's Lonely Hearts Club Band (1967), widely regarded as a masterpiece. Four decades after their break-up, The Beatles' music continues to be popular. The Beatles have had more number one albums on the UK charts, and held down the top spot longer, than any other musical act. According to RIAA certifications, they have sold more albums in the United States than any other artist. In 2008, Billboard magazine released a list of the all-time top-selling Hot 100 artists to celebrate the US singles chart's fiftieth anniversary, with The Beatles at number one. They have been honoured with 7 Grammy Awards, and they have received 15 Ivor Novello Awards from the British Academy of Songwriters, Composers and Authors. The Beatles were collectively included in Time magazine's compilation of the 20th century's 100 most influential people.
History
Formation and early years (1957–1962)
Aged sixteen, singer and guitarist John Lennon formed the skiffle group The Quarrymen with some Liverpool schoolfriends in March 1957. Fifteen-year-old Paul McCartney joined as a guitarist after he and Lennon met that July. When McCartney in turn invited George Harrison to watch the group the following February, the fourteen-year-old joined as lead guitarist. By 1960, Lennon's schoolfriends had left the group, he had begun studies at the Liverpool College of Art and the three guitarists were playing rock and roll whenever they could get a drummer. Joining on bass in January, Lennon's fellow student Stuart Sutcliffe suggested changing the band name to "The Beetles" as a tribute to Buddy Holly and The Crickets, and they became "The Beatals" for the first few months of the year. After trying other names including "Johnny and the Moondogs", "Long John and The Beetles" and "The Silver Beatles", the band finally became "The Beatles" in August. The lack of a permanent drummer posed a problem when the group's unofficial manager, Allan Williams, arranged a resident band booking for them in Hamburg, Germany. Before the end of August they auditioned and hired drummer Pete Best, and the five-piece band left for Hamburg four days later, contracted to fairground showman Bruno Koschmider for a 48-night residency. "Hamburg in those days did not have rock 'n' roll music clubs. It had strip clubs", says biographer Philip Norman.
Bruno had the idea of bringing in rock groups to play in various clubs. They had this formula. It was a huge nonstop show, hour after hour, with a lot of people lurching in and the other lot lurching out. And the bands would play all the time to catch the passing traffic. In an American red-light district, they would call it nonstop striptease.
Many of the bands that played in Hamburg were from Liverpool…It was an accident. Bruno went to London to look for bands. But he happened to meet a Liverpool entrepreneur in Soho, who was down in London by pure chance. And he arranged to send some bands over.
Harrison, only 17 years old in August 1960, obtained permission to stay in Hamburg by lying to the German authorities about his age. Initially placing The Beatles at the Indra Club, Koschmider moved them to the Kaiserkeller in October after the Indra was closed down due to noise complaints. When they violated their contract by performing at the rival Top Ten Club, Koschmider reported the underage Harrison to the authorities, leading to his deportation in November. McCartney and Best were arrested for arson a week later when they set fire to a condom nailed to a wall in their room; they too were deported. Lennon returned to Liverpool in mid-December, while Sutcliffe remained in Hamburg with his new German fiancée, Astrid Kirchherr, for another month. Kirchherr took the first professional photos of the group and cut Sutcliffe's hair in the German "exi" (existentialist) style of the time, a look later adopted by the other Beatles.
During the next two years, the group were resident for further periods in Hamburg. They used Preludin both recreationally and to maintain their energy through all-night performances. Sutcliffe decided to leave the band in early 1961 and resume his art studies in Germany, so McCartney took up bass. German producer Bert Kaempfert contracted what was now a four-piece to act as Tony Sheridan's backing band on a series of recordings. Credited to "Tony Sheridan and The Beat Brothers", the single "My Bonnie", recorded in June and released four months later, reached number 32 in the Musikmarkt chart. The Beatles were also becoming more popular back home in Liverpool. During one of the band's frequent appearances there at The Cavern Club, they encountered Brian Epstein, a local record store owner and music columnist. When the band appointed Epstein manager in January 1962, Kaempfert agreed to release them from the German record contract. After Decca Records rejected the band with the comment "Guitar groups are on the way out, Mr. Epstein", George Martin signed the group to EMI's Parlophone label. News of a tragedy greeted them on their return to Hamburg in April. Meeting them at the airport, a stricken Kirchherr told them of Sutcliffe's death from a brain haemorrhage.

Abbey Road Studios main entrance In Liverpool, the Merseybeat movement was gathering force. The band had its first recording session under Martin's direction at EMI Studios in London in June 1962. Martin complained to Epstein about Best's drumming and suggested the band use a session drummer in the studio. Instead, Best was replaced by Ringo Starr. Starr, who left Rory Storm and the Hurricanes to join The Beatles, had already performed with them in Best's occasional absence. Martin still hired session drummer Andy White for one session. White played on the single "Love Me Do" and "P.S. I Love You". Released in October, "Love Me Do" was a top twenty UK hit, peaking at number seventeen on the chart. After a November studio session that yielded what would be their second single, "Please Please Me", they made their TV debut with a live performance on the regional news programme People and Places.
The band concluded their last Hamburg stint in December 1962. By now it had become the pattern that all four members contributed vocals, although Starr's restricted range meant he sang lead only rarely. Lennon and McCartney had established a songwriting partnership; as the band's success grew, their celebrated collaboration limited Harrison's opportunities as lead vocalist. Epstein, sensing The Beatles' commercial potential, encouraged the group to adopt a professional attitude to performing. Lennon recalled the manager saying, "Look, if you really want to get in these bigger places, you're going to have to change—stop eating on stage, stop swearing, stop smoking." Lennon said, "We used to dress how we liked, on and off stage. He'd tell us that jeans were not particularly smart and could we possibly manage to wear proper trousers, but he didn't want us suddenly looking square. He'd let us have our own sense of individuality … it was a choice of making it or still eating chicken on stage."
Beatlemania and touring years (1963–1966)
UK popularity, Please Please Me and With The Beatles
In the wake of the moderate success of "Love Me Do", "Please Please Me" met with a more emphatic reception, reaching number two on the UK singles chart after its January 1963 release. Martin originally intended to record The Beatles' debut LP live at the Cavern Club. Finding it had "the acoustic ambience of an oil tank", he elected to create a "live" album in one session at Abbey Road Studios. Ten songs were recorded for Please Please Me, accompanied on the album by the four tracks already released on the two singles. Recalling how the band "rushed to deliver a debut album, bashing out Please Please Me in a day", an Allmusic reviewer comments, "Decades after its release, the album still sounds fresh, precisely because of its intense origins." Lennon said little thought went into composition at the time; he and McCartney were "just writing songs à la Everly Brothers, à la Buddy Holly, pop songs with no more thought of them than that—to create a sound. And the words were almost irrelevant."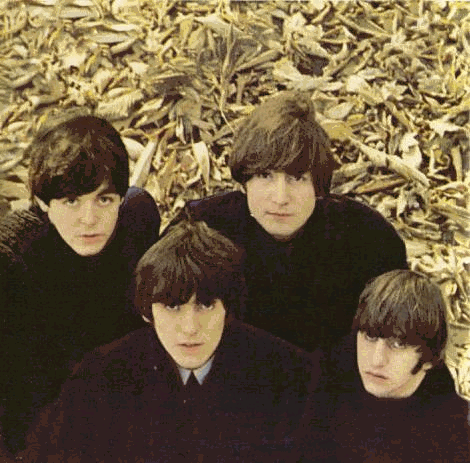 Released in March 1963, the album reached number one on the British chart. This initiated a run during which eleven of their twelve studio albums released in the United Kingdom through 1970 hit number one. The band's third single, "From Me to You", came out in April and was also a chart-topping hit. It began an almost unbroken run of seventeen British number one singles for the band, including all but one of the eighteen they put out over the next six years. On its release in August, the band's fourth single, "She Loves You", achieved the fastest sales of any record in the UK up to that time, selling three-quarters of a million copies in under four weeks. It became their first single to sell a million copies, and remained the biggest-selling record in the UK until 1978 when it was topped by "Mull of Kintyre", performed by McCartney and his post-Beatles band, Wings. The popularity of their music brought with it increasing press attention. The band members responded with a cheeky, irreverent attitude that defied what was expected of pop musicians and inspired even more interest.
The Beatles' logo, seen on the front of Starr's bass drum during the group's major touring years, was based on an impromptu sketch by instrument retailer and designer Ivor Arbiter upon instruction from Epstein that the design should emphasize the word "beat". The band toured the UK three times in the first half of the year: a four-week tour that began in February preceded three-week tours in March and May–June. As their popularity spread, a frenzied adulation of the group took hold, dubbed "Beatlemania". Although not billed as tour leaders, they overshadowed other acts including Tommy Roe, Chris Montez and Roy Orbison, American artists who had established great popularity in the UK. Performances everywhere, both on tour and at many one-off shows around the country, were greeted with riotous enthusiasm by screaming fans. Police found it necessary to use high-pressure water hoses to control the crowds, and there were debates in Parliament concerning the thousands of police officers putting themselves at risk to protect the group. In late October, a five-day tour of Sweden saw the band venture abroad for the first time since the Hamburg chapter. Returning to the UK, they were greeted at Heathrow Airport in heavy rain by thousands of fans in "a scene similar to a shark-feeding frenzy", attended by fifty journalists and photographers and a BBC Television camera crew. The next day, they began yet another British tour, scheduled for six weeks. By now, they were indisputably the headliners.
Please Please Me was still topping the album chart. It maintained the position for thirty weeks, only to be displaced by With The Beatles which itself held the top spot for twenty-one weeks. Making much greater use of studio production techniques than its "live" predecessor, the album was recorded between July and October. With The Beatles is described by Allmusic as "a sequel of the highest order—one that betters the original by developing its own tone and adding depth." In a reversal of what had until then been standard practice, the album was released in late November ahead of the impending single "I Want to Hold Your Hand", with the song excluded in order to maximize the single's sales. With The Beatles caught the attention of The Times' music critic William Mann, who went as far as to suggest that Lennon and McCartney were "the outstanding English composers of 1963″. The newspaper published a series of articles in which Mann offered detailed analyses of the music, lending it respectability. With The Beatles became the second album in UK chart history to sell a million copies, a figure previously reached only by the 1958 South Pacific soundtrack. Drafting a press release shortly before the record came out, Tony Barrow, the band's press officer, thought up a new descriptive phrase for the quartet that would be widely adopted: the "Fab Four".
"British Invasion"
The Beatles' releases in the United States were initially delayed for nearly a year when Capitol Records, EMI's American subsidiary, declined to issue either "Please Please Me" or "From Me to You". Negotiations with independent US labels led to the release of some singles, but issues with royalties and derision of the band's "moptop" hairstyle posed further obstacles. Once Capitol did start to issue the material, rather than releasing the LPs in their original configuration, they compiled distinct US albums from an assortment of the band's recordings and issued songs of their own choice as singles. American chart success came after Epstein arranged for a $40,000 US marketing campaign and secured the support of disk jockey Carrol James, who first played the band's records in mid-December 1963, initiating their music's spread across US radio. This triggered great demand, leading Capitol to rush-release "I Want to Hold Your Hand" that same month. The band's US debut had already been scheduled to take place a few weeks later.
The Beatles left the United Kingdom on 7 February 1964, with an estimated four thousand fans gathered at Heathrow, waving and screaming as the aircraft took off. At New York's John F. Kennedy Airport they were greeted by another uproarious crowd estimated at three thousand people. They gave their first live US television performance two days later on The Ed Sullivan Show, watched by approximately 73 million viewers in over 23 million households,or 34 percent of the American population, and according to the Nielsen rating service, it was "the largest audience that had ever been recorded for an American television program." The next morning critical consensus in the US was generally against the group, but a day later their first US concert saw Beatlemania erupt at Washington Coliseum. Back in New York the following day, they met with another strong reception during their two shows at Carnegie Hall. The band then flew to Florida and appeared on the weekly Ed Sullivan Show a second time, before another 70 million viewers, before returning to the UK on 22 February.
A Hard Day's Night
Capitol Records' lack of interest throughout 1963 had not gone unnoticed, and a competitor, United Artists Records, encouraged their film division to offer the group a three motion picture deal, primarily for the commercial potential of the soundtracks. Directed by Richard Lester, A Hard Day's Night had the group's involvement for six weeks in March–April 1964 as they played themselves in a mock-documentary. The film premiered in London and New York in July and August, respectively, and was an international success, with some critics drawing comparison with the Marx Brothers. According to Erlewine, the accompanying soundtrack album, A Hard Day's Night, saw them "truly coming into their own as a band. All of the disparate influences on their first two albums had coalesced into a bright, joyous, original sound, filled with ringing guitars and irresistible melodies." That "ringing guitar" sound was primarily the product of Harrison's 12-string electric Rickenbacker, a prototype given him by the manufacturer, which made its debut on the record. Harrison's ringing 12-string inspired Roger McGuinn, who obtained his own Rickenbacker and used it to craft the trademark sound of The Byrds.
Discography
Studio Albums
1963 Please Please Me – http://www.bopping-elf.co.uk/beatles-please-please-me/
1963 With The Beatles – http://bopping-elf.co.uk/uncategorized/beatles-with-the-beatles/
1964 A Hard Days Night – http://bopping-elf.co.uk/beatles/beatles-a-hard-days-night/
1964 Beatles For Sale – Coming soon 05/10/2018
Magical Mystery Tour – http://bopping-elf.co.uk/beatles/beatles-magical-mystery-tour/
The White Album – http://bopping-elf.co.uk/beatles/beatles-the-white-album/
Alternate Mixes
The Alternate Abbey Road – http://www.bopping-elf.co.uk/beatles-the-alternate-abbey-road/
Unofficial Live Albums (Bootlegs)
Live At The Hollywood Bowl – http://www.bopping-elf.co.uk/beatles-live-at-the-hollywood-bowl/
One Response to "Beatles"